BIOLAK®Integral System
Plant for the aerobic treatment for communal and industrial wastewater, up to complete recycling.
The system integrates biological phosphate, nitrogen and carbonate reduction, final clarification and advanced treatment in the same basin.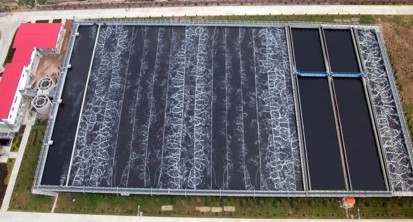 Capabilities
Communal
BIOLAK®Integral has been designed for plants of 300 to over 3,000,000 PE60
Industry
BIOLAK®Integral has been designed for industrial sewage with capacities from 0.5 to 200 t COD/d. We have experience in:
The food product sector:

Breweries/malthouses
Soft drink companies
Fruit processing
Dairies / cheese makers
Starch factories
Slaughterhouses
Tinned food factories

Other industrial water:

Textile finishing
Paper and cellulose
Animal body disposal
Petrochemical industry
Chemical industry
Climate
BIOLAK®Integral was tested under extreme climate conditions, such as in high ambient temperatures (e.g. in Saudi Arabia) and in extremely cold locations (such as Finland).
Advantages
High treatment efficiency
Degree of cleaning > 95%
Activated sludge stage with sludge stabilisation
Elimination of nitrogen
Biological elimination of phosphates
Extensive hygienisation
Removal of filterable materials (SS<10 mg/l)
Post-purge
Stable process: this provides operational safety
Profitability
Low energy consumption due to "moving aerator chains"
Low level of sludge accumulation
Low investment costs due to integral construction method and ground basin structure
Natural construction method fitting into the landscape
Long lifecycle
Simple maintenance
The maintenance is very simple and inexpensive and can be carried out with no service interruptions.
Secure against earthquakes
BIOLAK®Integral uses the ground basin construction method with HDPE basin sealing and is therefore robust and secure during earthquakes. Small settlement movements are compensated for by the foil.